Author: Léa Cossette-Martin
1. Eat, pray, love
« Elizabeth Gilbert is in her thirties, settled in a large house with a husband who wants to start a family. But she doesn't want any of it. A bitter divorce and a rebound fling later, Elizabeth emerges battered yet determined to find what she's been missing.
So begins her quest. In Rome, she indulges herself and gains nearly two stone. In India, she finds enlightenment through scrubbing temple floors. Finally, in Bali, a toothless medicine man reveals a new path to peace, leaving her ready to love again.»
2. The Beach
«Richard lands in East Asia in search of an earthly utopia. In Thailand he is given a map promising an unknown island, a secluded beach – and a new way of life. What Richard finds when he gets there is breathtaking: more extraordinary, more frightening than his wildest dreams.
But how long can paradise survive here on Earth? And what lengths will Richard go in order to save it?»
3. Wild by nature
"Not since Cheryl Strayed gifted us with her adventure on the Pacific Crest Trail in her memoir, Wild, has there been such a powerful epic adventure by a woman alone. In Wild by Nature, National Geographic Explorer Sarah Marquis takes you on the trail of her ten-thousand-mile solo hike across the remote Gobi desert from Siberia to Thailand, at which point she was transported by boat to complete the hike at her favorite tree in Australia.
Against nearly insurmountable odds and relying on hunting and her own wits, Sarah Marquis survived the Mafia, drug dealers, thieves on horseback who harassed her tent every night for weeks, temperatures from subzero to scorching, life-threatening wildlife, a dengue fever delirium in the Laos jungle, tropic ringworm in northern Thailand, dehydration, and a life-threatening abscess.
This is an incredible story of adventure, human ingenuity, persistence, and resilience that shows firsthand what it is to adventure as a woman in the most dangerous of circumstance, what it is to be truly alone in the wild, and why someone would challenge themselves with an expedition others would call crazy. For Marquis, her story is about freedom, being alive and wild by nature."
4. The Year of Living Danishly: Uncovering the Secrets of the World's Happiest Country
When she was suddenly given the opportunity of a new life in rural Jutland, journalist and archetypal Londoner Helen Russell discovered a startling statistic: the happiest place on earth isn't Disneyland, but Denmark, a land often thought of by foreigners as consisting entirely of long dark winters, cured herring, Lego and pastries.
What is the secret to their success? Are happy Danes born, or made? Helen decides there is only one way to find out: she will give herself a year, trying to uncover the formula for Danish happiness.
From childcare, education, food and interior design to SAD, taxes, sexism and an unfortunate predilection for burning witches, The Year of Living Danishly is a funny, poignant record of a journey that shows us where the Danes get it right, where they get it wrong, and how we might just benefit from living a little more Danishly ourselves.
5. The Turk Who Loved Eating Apples: And Other Tales of Losing My Way Around the World
"While writing his celebrated Frugal Traveler column for the New York Times, Matt Gross began to feel hemmed in by its focus on what he thought of as "traveling on the cheap at all costs." When his editor offered him the opportunity to do something less structured, the Getting Lost series was born, and Gross began a more immersive form of travel that allowed him to "lose his way all over the globe"—from developing-world megalopolises to venerable European capitals, from American sprawl to Asian archipelagos. And that's what the never-before-published material in The Turk Who Loved Apples is all about: breaking free of the constraints of modern travel and letting the place itself guide you. It's a variety of travel you'll love to experience vicariously through Matt Gross—and maybe even be inspired to try for yourself."
6. The Places In Between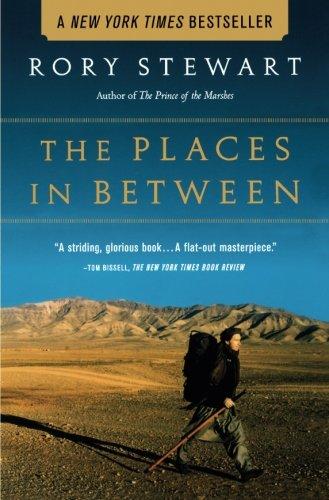 "In January 2002 Rory Stewart walked across Afghanistan-surviving by his wits, his knowledge of Persian dialects and Muslim customs, and the kindness of strangers. By day he passed through mountains covered in nine feet of snow, hamlets burned and emptied by the Taliban, and communities thriving amid the remains of medieval civilizations. By night he slept on villagers' floors, shared their meals, and listened to their stories of the recent and ancient past. Along the way Stewart met heroes and rogues, tribal elders and teenage soldiers, Taliban commanders and foreign-aid workers. He was also adopted by an unexpected companion-a retired fighting mastiff he named Babur in honor of Afghanistan's first Mughal emperor, in whose footsteps the pair was following.
Through these encounters-by turns touching, con-founding, surprising, and funny-Stewart makes tangible the forces of tradition, ideology, and allegiance that shape life in the map's countless places in between."
7. The Alchemist
"My heart is afraid that it will have to suffer," the boy told the alchemist one night as they looked up at the moonless sky." Tell your heart that the fear of suffering is worse than the suffering itself. And that no heart has ever suffered when it goes in search of its dreams."
Every few decades a book is published that changes the lives of its readers forever. The Alchemist is such a book. With over a million and a half copies sold around the world, The Alchemist has already established itself as a modern classic, universally admired. Paulo Coelho's charming fable, now available in English for the first time, will enchant and inspire an even wider audience of readers for generations to come.
The Alchemist is the magical story of Santiago, an Andalusian shepherd boy who yearns to travel in search of a worldly treasure as extravagant as any ever found. From his home in Spain he journeys to the markets of Tangiers and across the Egyptian desert to a fateful encounter with the alchemist.
The story of the treasures Santiago finds along the way teaches us, as only a few stories have done, about the essential wisdom of listening to our hearts, learning to read the omens strewn along life's path, and, above all, following our dreams."
8. Lands of Lost Borders: Out of Bounds on the Silk Road
"Maybe all meaningful journeys begin with a mistake. Some kind of transgression or false turn or flawed idea that sets a certain irresistible odyssey in motion. Growing up in small-town Ontario, where the tallest summit was a haystack and the widest horizon a field of corn, my blunder seemed obvious, though it wasn't exactly my fault: I was born centuries too late for the life I was meant to live."
As a teenager, Kate Harris realized that the career she craved—to be an explorer, equal parts swashbuckler and metaphysician—had gone extinct. From what she could tell of the world from small-town Ontario, the likes of Marco Polo and Magellan had mapped the whole earth; there was nothing left to be discovered. Looking beyond this planet, she decided to become a scientist and go to Mars.
In between studying at Oxford and MIT, Harris set off by bicycle down the fabled Silk Road with her childhood friend Mel. Pedaling mile upon mile in some of the remotest places on earth, she realized that an explorer, in any day and age, is the kind of person who refuses to live between the lines. Forget charting maps, naming peaks: what she yearned for was the feeling of soaring completely out of bounds. The farther she traveled, the closer she came to a world as wild as she felt within.
9. The Caliph's House: A Year in Casablanca
"Inspired by the Moroccan vacations of his childhood, Tahir Shah dreamed of making a home in that astonishing country. At age thirty-six he got his chance. Investing what money he and his wife, Rachana, had, Tahir packed up his growing family and bought Dar Khalifa, a crumbling ruin of a mansion by the sea in Casablanca that once belonged to the city's caliph, or spiritual leader.
With its lush grounds, cool, secluded courtyards, and relaxed pace, life at Dar Khalifa seems sure to fulfill Tahir's fantasy–until he discovers that in many ways he is farther from home than he imagined. For in Morocco an empty house is thought to attract jinns, invisible spirits unique to the Islamic world. The ardent belief in their presence greatly hampers sleep and renovation plans, but that is just the beginning. From elaborate exorcism rituals involving sacrificial goats to dealing with gangster neighbors intent on stealing their property, the Shahs must cope with a new culture and all that comes with it.
Endlessly enthralling, The Caliph's House charts a year in the life of one family who takes a tremendous gamble. As we follow Tahir on his travels throughout the kingdom, from Tangier to Marrakech to the Sahara, we discover a world of fierce contrasts that any true adventurer would be thrilled to call home."
10. Around the world without money nor luggage
"Around the world without money nor luggage' is an extraordinary adventure undertaken by Matteo Pennacchi. With the intention to make a Guinness Record, he eventually turned the idea into a social challenge made up of human and passionate experiences. A race against time, a bet with himself and away, on the road, with makeshift equipment, on trucks, trains and ships, across continents, from Moscow to Beijing to Seoul, from the States across the Ocean back to Italy. He vividly describes all 'the tricks' to survive such an enduring challenge …magic shows on the Trans-Siberian train in exchange for food, the containers full of fruit and vegetables to soak in exchange for a passage on cargo boats, friends one makes along the way, willing to offer hospitality. The challenge to travel the world without money, only with a pouch containing passport, toothbrush, a press release of articles published before he left, and a few other items. His daily challenge was to ensure, in some way or other, food, lodging and transport. This trip, undertaken in 1998, can be considered as between the last big adventures before the globalisation of Internet tools. Matteo's book, spontaneous, funny, easy-going, is the story of an adventure that many of us would like to live. The book, originally published in Germany, Italy, France…, is now finally available in English!"